Applications
Diagnostics & Inspections
Diagnostics & Inspections
Guaranteeing the safety of people and property and identifying potential savings are two important issues for our companies.
In order to guide and focus these objectives, a large number of diagnostics and inspections have been defined, particularly with regard to equipment and installations.
Objectives
Whether they are performed during commissioning or periodically, the aim of these operations is to establish:
Compliance with the applicable regulations; such compliance is usually mandatory.
An assessment of performance according to a standardized procedure; in this case, the threshold values are not necessarily defined.
Diagnostics and inspections are mainly performed by organizations which are independent (of the manufacturer and the customer-user) and possess appropriate authorizations.
Each country defines a set of specific regulations requiring inspections to ensure that they are implemented. In addition, separate voluntary operations are performed to diagnose the performance or safety of a system.
These diagnostics and inspections generally use two types of analysis: visual checks and tests. The tests necessarily involve measurements.
Chauvin Arnoux offers measuring instruments capable of performing these measurements in the following cases:
Electrical safety of installations
Electrical, safety of machines and switchboards
Electrical installation inspections using thermography
Inspections of the work environment
Thermal diagnostics
Energy diagnostics
Electrical safety of installations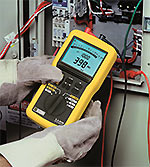 The electrical safety of installations, whether residential, industrial or tertiary, is crucial for guaranteeing the safety of the people present and the premises which they are in. At the end of the construction works, after modifications or periodically (preventive action), these inspections can check:
The electrical continuity of the protective equipotential of the mechanical chassis-earths
The sizing and operation of the protective systems
The effectiveness of the earthing system
The quality of the electrical insulants
The IEC 60364 international standard is one of the technical standards defining the rules for the design and construction of a low-voltage electrical installation, as well as the tests for ensuring the finished installation's compliance with the rules.
Bi-function or multi-function installation testers can be used to perform the tests specified in many international and national standards (such as NF C15-100 in France, BS 7671 in the UK, VDE 100 in Germany, etc.).
Electrical safety of machines and switchboards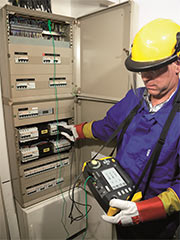 Like electrical installations, electrical machines and switchboards are also subject to regulations designed notably to ensure that they can be used safely. These standards define the type qualification tests (marketing conditions), the commissioning tests (first use) and any periodic testing that needs to be carried out.

In particular, the tests specified in the EN60205 and EN61439 European standards can be performed with Chauvin Arnoux Machine Testers.
Electrical installation inspection using thermography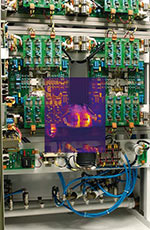 Alongside the measurements of electrical quantities on installations or machines, it may be useful to carry out a thermographic inspection. For example, in France, the APSAD D19 technical document defines the conditions for thermographic inspections of electrical installations. This thermographic inspection work may be undertaken contractually by the insurer and is in no way a substitute for periodic regulatory testing of electrical installations.

The purpose of the inspection is to provide data for decision-making so that suitable corrective and/or preventive action can be taken on installations and equipment, thus avoiding damage to the equipment involved, fires or production shutdowns, for example.

In all cases, the operator performing the task must have obtained the certificate of aptitude for electrical installation inspections using infrared thermography, awarded by the CNPP (French National Prevention and Protection Centre) and must be provided with annually-tested thermographic equipment with sufficient spatial and thermal resolution, such as the C.A 1886 and C.A 1888 cameras.
Inspection of the work environment
Inspection of the work environment: It is up to the employer to assess any hazards facing employees in the context of their work and to take all necessary measures to minimize or eliminate them. For physical hazards, measures whose stringency varies according to the country involved are taken to address air quality, lighting, exposure to noise and exposure to electromagnetic fields.
With regard to lighting, the lighting level must be adapted to the type and precision of the work to be carried out and may vary from 200 lux for office work up to 800 lux for certain difficult laboratory tasks.

For exposure to noise, the maximum levels are defined in European directive 2003/10/CE which was transcribed into French law by decree no. 2006-892 of 19th July 2006. More recently, European directive 2013/35/UE of 26th June 2013 concerning the minimum health and safety specifications concerning workers' exposure to electromagnetic fields needs to be transposed into national law by the member states by July 2016.

Luxmeters, sound level meters, electromagnetic field testers and contact and no-contact thermometers can all be used for these tests.
Thermal diagnostics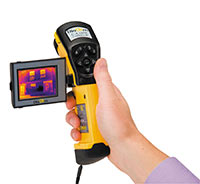 To improve the energy performance of buildings, thermographic cameras are effective tools capable of detecting thermal insulation faults, air infiltration and thermal bridges. Among the numerous applications of thermography (illustrative, for self-testing, after renovation), it can be used support air permeability measurements by identifying uncontrolled air leaks in the shell of a building.

Thermography is easy to implement and some observations in buildings are easy to analyse and interpret. As in many fields, specific precautions and knowledge are sometimes necessary. In France, a framework for thermographic inspections already exists: the NF EN 13187 standard defining a qualitative method for detecting thermal irregularities in the shell of a building.

These tests can be performed using thermal cameras (C.A 1877 – C.A 1878 - C.A 1882 - C.A 1886 - C.A 1888).
Energy diagnostics
The core question of any energy diagnosis is: how much do you consume. By placing power and energy loggers or analysers on the different electrical feeders downstream from the meter, you can assess the relative weight of each line as part of global consumption, simply and without interrupting the installation's operation, and define a load profile for the installation so that you can determine the priorities regarding orientations for improvements.

To complete these initial surveys, a comprehensive range of loggers is available to measure and automatically record the trends over time of voltages, currents, temperatures and process signals. Analysis of these additional measurements provides essential information for thoroughly understanding the consumption profiles and checking the effectiveness of the modifications made to improve overall energy efficiency.

Point measurements of physical quantities such as temperature, air flow, pressure and lighting can also help you to establish pertinent energy surveys.


The DataView software can be used to draft detailed reports of the measurements made with a large number of Chauvin Arnoux products, such as installation testers, insulation testers, earth/ground testers, power analysers and power and energy loggers. With this software, it is possible to download all the measurements stored in the instruments, analyse them and enter comments in a detailed report.